IEEE CogSIMA 2022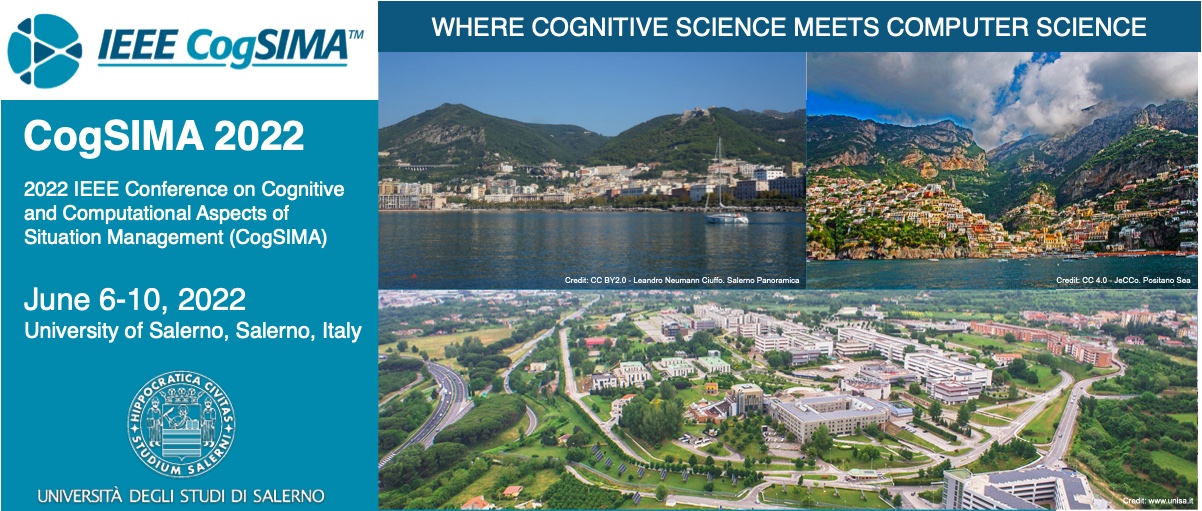 Hybrid Conference (both in-person and virtual participation) 
About
The CogSIMA conferences promote a holistic approach to multidisciplinary research on dynamic, cyber-physical-social systems of systems, emerging from the interaction of  people, machines, computer systems and organisations situated in complex dynamic environments. Critical to these systems of systems are their cognitive and computational capabilities to (1) sense, perceive, comprehend, and predict situations, (2) reason about and recommend possible actions for situations, (3) facilitate learning, self-organization and collective intelligence, and (4) assess interdependencies between systems. Following its successful, interdisciplinary tradition, CogSIMA 2022 will provide an inspiring forum for scientists and practitioners from diverse backgrounds including cognitive science, computer science, artificial intelligence, psychology, and human factors.
For questions concerning CogSIMA 2022 contact us at admin@cogsima.org.
We look forward to seeing you in Salerno!
Call for Papers
All papers must present original and unpublished work that is not currently under review elsewhere. Each paper will be reviewed by at least three independent referees. Papers will be evaluated according to their significance, originality, technical content, style, clarity, and relevance to the conference. At least one author for each accepted paper is required to attend the conference.
Two types of paper submissions will be accepted:
Regular Papers (5-8 pages) – papers that describe new results that advance the state-of-the-art
Poster Papers (3-5 pages) – describe work in progress.
Call for Focus Sessions
Attendees are encouraged to propose topics for focus sessions. Each session will consist of four to five papers selected to stimulate a focused discussion of new or innovative topics. Each proposal must include the session title, description, and organizers. Focus session papers will undergo the same review process as regular papers.  Focus session papers must be clearly indicated when submitted with a copy sent to the designated focus session organizer. Please, submit focus session proposals to Kirstie Bellman (bellmanhome@yahoo.com).
Call for Tutorials
Proposals are invited for half-day tutorials. Tutorial proposals must include tutorial title, outline and description, and biography of the tutorial instructor(s). Tutorial proposal length is limited to 1 page. Please, submit tutorial proposals to Giancarlo Fortino (giancarlo.fortino@unical.it).
Call for Workshops
Proposals are invited for half-day or full-day workshops. Workshop proposals must include workshop title, description, and biography of the workshop organizer(s). Workshop proposal length is limited to 1 page. Please, submit workshop topic proposals to Ken Baclawski (kenbaclawski@gmail.com).
Due Dates
Regular, Poster & Focus Session Papers: January 24, 2022 (extended)
Focus Session and Workshop proposals: November 30, 2021
Tutorials Proposals: February 01, 2022
Paper and Poster Submission Guidelines and Publication
Submitted papers should clearly indicate on the first page the submission type. Authors of accepted papers will need to sign an IEEE copyright release form and present their paper at the conference. All paper submissions will be handled electronically by EDAS. Authors should prepare a Portable Document Format (PDF) version of their full paper in 2-column style (main text in 10-point size) including figures and correct margins. Please use the stylesheet templates provided by IEEE to assure that your submission is in line with the IEEE guidelines. The conference proceedings will be electronically published in the IEEE CogSIMA Conference Proceedings and will be submitted to the IEEEXplore® Digital Library. At least one author of an accepted paper is required to register for the conference at the full rate and the paper must be presented by an author of that paper at the conference unless the TPC grants permission for a substitute presenter. Non-refundable registration fees must be paid prior to uploading the final IEEE formatted, publication-ready version of the paper. For authors with multiple accepted papers, one full registration is valid for up to 2 papers.
Topics of Interest
It is assumed that the submitted papers address cognitive and/or computational aspects of situation management, including but not limited to:
Situation Management – Foundations & Models
Advances in conceptual frameworks, architectures, models or other formalizations of situation management, decision support, and control
Scale in situation awareness (public vs. organizational vs. team vs. individual; distributed vs. shared awareness)
Situational "Big Data" analysis such as social media analytics
Predictive situation awareness
Situation modeling including, e. g., anomaly and pattern detection, validation, metrics, and performance measurements
Computer-aided decision-making
Mental models and cognitive processes
Bio-inspired models of situation management
Context and knowledge representation
Visualizations of situation
Impact of human ability (e.g., physical and/or mental impairment, demotivation) on situation management
Trust including fake data
Self-awareness and self-X capability models and their integration into cognitive situation management
Artificial Intelligence (including ML and DL) in situation management
Psychological aspects of situation management
Designing, developing, and adapting resilient systems
Collective Situation Management and Control
Collective intelligence and emergent behavior in situation management
Cooperation and collaboration in multi-agent situation management
Models of collective, autonomous, and resilient situation control
Socially sensitive design and socially responsive design
Innovations in mixed initiative systems, protocols, and architectures
Situation Management Applications
System-level experiments and application specific research
Pandemic and disaster situation awareness, response, and recovery
Cyber security situation awareness and control
Autonomous vehicles and transportation systems
Resilient health care situation management
Computational International Relation (IR)
Defence and autonomous mission control
Cognitive robotics, human-robot interaction, and human-autonomy teaming
Cyber-physical systems situation awareness, monitoring, and management
Internet of Things (IoT), edge computing, and wearable computing
COVID-19 Info
With uncertainty around COVID-19, the conference will be held as a hybrid event, with both in-person meetings and events and virtual accessibility to conference meetings.
We are currently ensuring that there will be a secure face-to-face conference that will allow the CogSIMA community to meet again in person in the splendid setting of Salerno. But in case of restrictions and to respect the needs and requirements of each participant, we will support virtual participations and remote presentations, in order to deliver the best experience possible for everyone.
Location
For the first time, CogSIMA will take place in Italy, at the University of Salerno!
The University of Salerno (UNISA)  is located a few kilometers from Salerno City Center, at the junction of motorway intersections that make it central and easy to reach. The university is a very large compound in continuous expansion, covering around 100,000 square meters. Organized in the form of a campus, the university boasts modern facilities, efficient services, and many leisure activities.
Many world-famous touristic sites are in the surroundings. Salerno's central position, nestled in the curve of the bay of the same name, makes the city a focal point for leisure tourism and seaside holidays. Salerno's beautiful historic center bears signs of its glorious past with its medieval charm intact. The unique combination of historical attractions and modern buildings, parks, facilities, make Salerno one of the most welcoming and liveable cities. Few kilometers from the city center, other world-famous attractions are the Amalfi Coast and Pompei, UNESCO World Heritage Sites; Paestum; Napoli, just to name a few.
Find further information at www.visititaly.eu/campania  and www.livesalerno.com/ 
Conference venue: University of Salerno, Via Giovanni Paolo II, 132 – 84084 Fisciano (SA).  web.unisa.it/en/
Travel Info
The nearby international airport, Napoli-Capodichino Airport, provides many direct connections with cities worldwide and excellent facilities and a wide variety of services. The University of Salerno, and Salerno City Center can be easily reachable by the airport via frequent direct trains and buses.
Please, visit the Napoli-Capodichino Airport website for further information: www.aeroportodinapoli.it/homepage  and the travel information on the University of Salerno Website web.unisa.it/en/campus-life/campus/how-to-get-the-campus 
Organizing Committee
General Chair:
  Giuseppe D'Aniello, University of Salerno, Italy
Honorary Chair:
  Gabe Jakobson, CyberGem Consulting, USA
Vice Chair:
  Kirstie Bellman, Topcy House Consulting, USA
TPC Co-Chairs:
  Galina (Galya) Rogova, The State University of New York at Buffalo, USA
  Alicia Ruvinsky, ERDC US Army, USA
  Tom Ziemke, Linköping University, Sweden
Keynote/Tutorial Chair
  Giancarlo Fortino, University of Calabria, Italy
Finance Chair:
Ken Baclawski, Northeastern University, USA
Challenge Chair:
  Scott Fouse, Independent Consultant, USA
Student Program Chair:
  György Eigner, Óbuda University, Hungary
Publication Chair: 
  Mary Freiman, Aptima Inc., USA
International Liasons Chair:
Andrea Salfinger, Johannes Kepler University Linz, Austria
Communication/Publicity Chair: 
Michael Kozak, Lockheed Martin, USA
© IEEE CogSIMA 2022. All rights reserved.